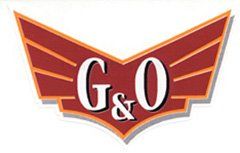 8301 Depot St.
P.O. Box 1218
Rural Hall, NC 27045
Phone (336) 969-6055
Fax (336) 969-9168
Contact: C. Todd Burchette, General Manager
Email: ctb@gulfandohio.com
The Yadkin Valley Railroad Co. operates in the foothill counties of Forsyth, Stokes, Surry, and Wilkes – located in North Carolina 's northwestern Piedmont – along two lines originating in Rural Hall: one to Elkin and North Wilkesboro, the other to Mount Airy.
The company began operations in 1989 after leasing its lines from Norfolk Southern under its "Thoroughbred Shortline Program." The company is owned by the Gulf & Ohio Railways of Knoxville, Tenn. (The Laurinburg & Southern Railroad and the Nash County Railroad are also owned and operated by Gulf & Ohio Railways.)
Commodities carried by the railroad are forest products, grain, salt and fiberboard.
Principal shippers are: Tyson Foods at Roaring River – a feed mill; Detroit Salt - salt; Weyerhauser at Elkin – manufacturer of fiberboard; Wayne Feeds and Perdue Farms at Burch – feed mills; ABTCO at Roaring River – producer of logs, fiberboard, and wood chips; and NC Foam Inc. at Mount Airy – manufacturer of foam products.
The Yadkin Valley Railroad connects with Norfolk Southern at Rural Hall.
Miles of track: 93
Employees: 20
Carloads: 15,000 per year
Industries served: 23
Equipment: 9 locomotives