5725 Giles Farm Road
Morganton , NC 28655
Phone (828) 433-7409
Fax (828) 437-9652
Contacts: Don McGrady, President
Email: donaldmcgrady@bellsouth.net
Other Contact: Nadine McGrady, Secretary/Treasurer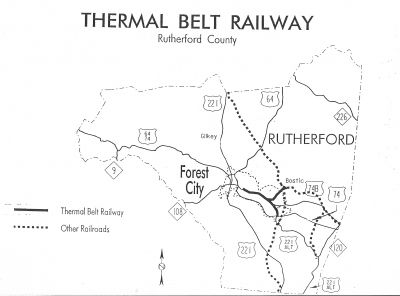 The Thermal Belt Railway operates from Bostic through Alexander Mills and Forest City to Spindale in Rutherford County , which is located in the foothills of western North Carolina . The company began service in 1990 over former CSX and NS branch lines that were purchased by the Rutherford Railroad Development Corporation, a non-profit community group. The line was subsequently leased to Southeast Shortlines Inc., parent company of the Thermal Belt Railway.
Commodities carried by the railroad are plastics and building materials. Principal shippers are all located in Forest City : Continental AFA – manufacturer of trigger sprayers; Carbel – distributor of plastics; and Henson Timber Products Co. – supplier of building materials. The Thermal Belt Railway has many industrial sites available along its line, some with existing structures and rail spurs already in place. The sites are close to U.S. highways 74 and 221.
The Thermal Belt connects with CSX.
Miles of track: 8.5
Employees: 4
Carloads: 150 per year-13,500 tons
Industries served: 3
Equipment: 1 locomotive