51 Second Ave. North
P.O. Box 277
Taylorsville, NC 28681-0277
Phone (828) 632-2103
Fax (828) 632-3179
Contact: Benjamin Zachary, General Manager
E-mail: arc@arcrailroad.com
Web site: www.alexanderrailroad.com
The Alexander Railroad Co. operates between Statesville and Taylorsville in North Carolina's Western Piedmont, serving businesses in western Iredell and eastern Alexander counties.
The company was founded in 1945 by local interests to purchase the line from a predecessor of Norfolk Southern.
Principal commodities carried by the railroad are grain, pulpboard, plastics, lumber products,and scrap paper.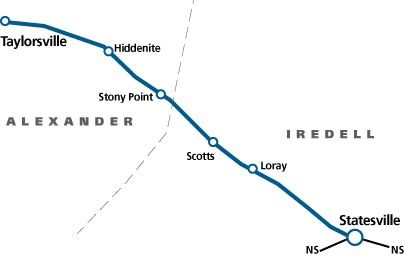 Principal shippers are: Star Milling Company of Statesville – producer of feed for poultry; International Paper Company of Statesville – manufacturer of corrugated boxes; Deal-Rite Feeds of Statesville – manufacturer of animal feed; CommScope Inc. of Statesville – manufacturer of coaxial cable; Flexsol Packaging Corporation of Statesville - manufacturer of custom industrial film; Pratt Industries of Statesville - manufacturer of corrugated boxes; Paragon Films, Inc. of Taylorsville - manufacturer of stretch film; and Liberty Reload Services of Taylorsville - full service reload yard with storage availability.
The Alexander Railroad serves several available industrial properties with all utilities near I-40 in West Statesville and is developing the 160-acre Alexander Industrial Park near Taylorsville. A rail-truck transload facility is located at Alexander Industrial Park.
The Alexander has a connection with Norfolk Southern at Statesville with daily interchange.
Miles of track: 20
Employees: 7
Carloads: 2,500 per year – 200,000 tons
Customers served: 20
Equipment: 6 locomotives